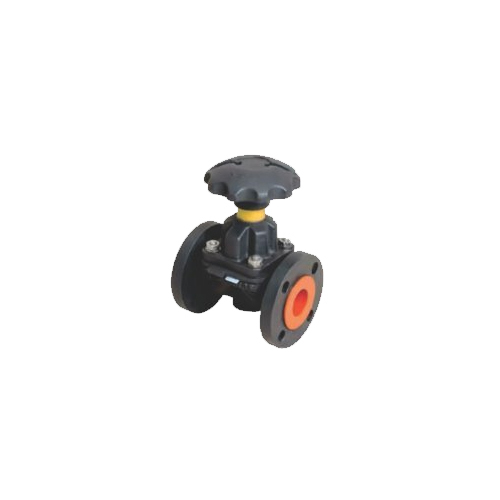 Weir Type Diaphragm Valve
Product Description
Ductile iron/304 grade stainless steel/316 grade s.s./cast steel made Weir Type Diaphragm Valve is perfect for flow and throttle controlling works. Known for its class VI leakage protection rating, this low maintenance valve is meant for corrosive work environment utilization purpose. It is designed with WCB or ductile iron bonnet; spring stainless steel compression; stainless steel plain washer , nut and stud; metal or ABS manual wheel; pin spring steel made dowell and HDPE fabricated opening indicator sleeve. We are proud to introduce ourselves as a reliable supplier and manufacturer of Weir Type Diaphragm Valve.
Features:
1) The design specification of this valve is in sync with BS EN 13397:2002.
2) Its PP/FEP/PVDF/ETFE.PFA lining material is 3 mm to 5 mm thick.
3) Completely leakage protected
4) Its testing standard conforms to BS EN 12266-1&2 (2003).
Technical Specifications:
1) Design Standard : BS EN 13397:2002 (Formerly BS 5156)
2) Flange : As per ANSI B16.5 / B16.42
3) Face to Face : BS 2080, DIN 3202, MSSP 88, EN 558
4) Lining Thickness : 3 to 5 mm
5) Drilling : ASA #150 /DIN 2632/33 / BS 10 TABLE D, E, F
6) Testing Standard : BS EN 12266-1&2 (2003)