PTFE Lined Diaphragm Valve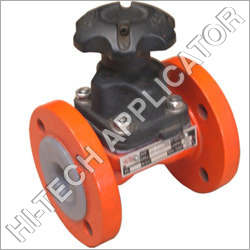 PTFE Lined Diaphragm Valve
Product Description
With our years of industry expertise, we are competent to manufacture and supply different kinds of PTFE Lined Diaphragm Valves to our clients. This is an isolation valve widely known among clients for their various qualitative attributes such as robust construction, vapour diffusion and vacuum resistance. Our offered range of product is widely suitable for applications in which corrosion resistance, high purity and high temperature tolerance are required.
PTFE Lined Diaphragm Valve Advantages:
They can be utilized as throttling and on-off service valves.
They provide good chemical resistance.
Stem leaking is no longer an issue.
The service is bubble-tight.
Solids, slurries, and other contaminants are not trapped in pockets.
This is used to control the flow of liquids and gases.